Tayport Auld Kirk, with its distinctive leaning clock tower, is one of the best known landmarks in the area. It has been recognised by Historic Scotland as a "B" listed building, together with its unique graveyard. The Auld Kirk Charitable Trust, was constituted as a charity in 2003 in order to bring the building into new uses, in a sustainable plan for the future. The Auld Kirk will be a centre for cultural, social, heritage and educational purposes.
Auld Kirk Carol Concert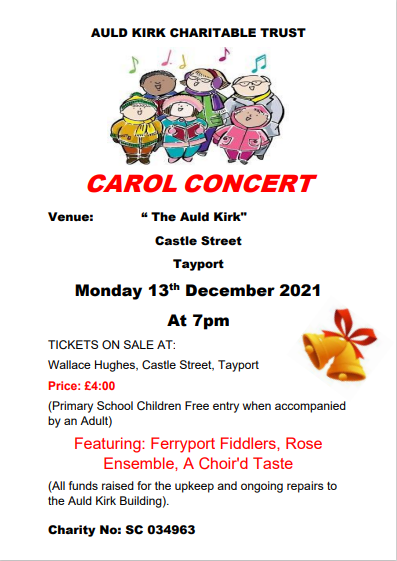 As part of the Tayport Climate Festival from 24-26 September the Auld Kirk will be hosting the 'Loving Earth Exhibition", textile panels created by people across the UK as a response to their reflections on environmental breakdown, The exhibition will be open from 10.00am -4.00 pm each day of the Festival and affords a one-off chance to see the panels before they are installed in Glasgow as part of COP26.
During the evening of Friday 24 September there will be two other events in the Auld Kirk. Firstly at 6.00 pm a talk entitled 'From Steaming Swamp to Blanket Bog: Peatlands in Action', a journey through Peru's tropical peatlands. A little later, at 7.30 pm, multi-talented local musician Elisabeth Flett will give a solo performance, playing her fiddle and singing.
On Sunday 26 September the film Anote's Ark will be shown in the Auld Kirk as the closing event of the Climate Festival. What if your country was swallowed by the sea? This is the reality facing the small island nation of Kiribati. Doors open at 6.00 pm for a 6.30 pm start. The film will be followed by a short discussion.
Auld Kirk Feasibility Study 2020-2021
Thanks to funding from the Architectural Heritage Fund and Fife Council's Local Community Planning Budget, the Auld Kirk Charitable Trust was able to engage appropriate professionals to revisit our 2009 survey and analyse the current condition of the building fabric in order to assess the viability of the proposed creation of a permanent Arts and Heritage Centre in the Auld Kirk. We appointed Conservation Accredited Architect Ryan Cathro, of Nicoll Russell Studios, to lead the study, and he in turn engaged the services of Conservation Engineer Will Rudd and Quantity Surveyor ARM-QS Services Limited. The resultant reports have now been completed and a number of proposals developed. The option preferred by our firm of architects expands upon two drawings prepared earlier by Trust member Euan McCallum, a former employee of Nicoll Russell, and proposes the addition of three lettable studios on the ground floor in addition to the large central flexible space and heritage/exhibition spaces. This option also suggests developing the upper floor balcony as community co-working space, which may well be a future need. Significant funding will be required to carry out the various repairs identified, in particular to the roof, before the interior of the building can be developed in this way.