Organisation
The Auld Kirk can offer very attractive facilities and surroundings for a wide variety of users, on a flexible basis, these could include:
Major Musical Concerts
Small Special Interest Music Groups
Drama and Theatrical Concerts
Art / Crafts Club / Centre
Bridge / Games Club
Lecture / Meeting Facilities
Exhibitions of Art and Cultural Interest
Horticultural and Floral Interest Groups
Historical / Preservation Trust Activity
Country Dancing Club
Fashion Shows / Presentations
Fundraising Events / Shows
Playgroups / Creches
Family Gatherings
Outside Concerts in Spring / Summer
Doors Open 'Historical' Days
Drop in Centre with Cafe / Rest Area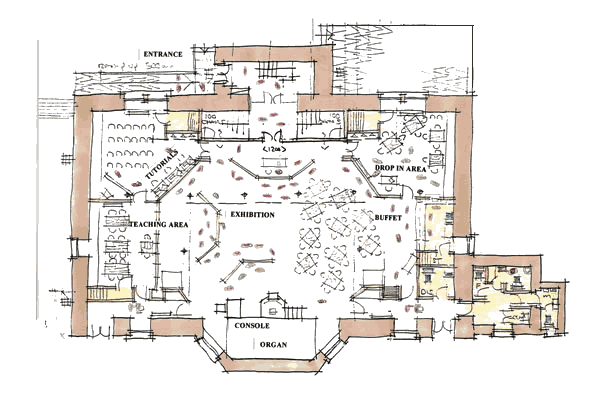 The Group's proposals are well identified, that is to bring the building into use for Cultural, Educational and Heritage uses, which will of course help to protect the main volume of the Church, the Organ and Windows as a truly atmospheric space. Small rooms and facilities can be added below the galleries in due course as support to the main activities which will take place in a flexible auditorium or Theatrical space which will be utilised by various groups from in and around the Community. In this way we hope that the Building will be revitalised to a prominence for the people of the town.